I think there is a tendency to think of H.G. Wells' Funny Little Wars as a peculiarly British hobby, a sort of slightly eccentric war gaming for eccentric English gentlemen. I myself, only a recent newcomer to the hobby, supposed that the penetration of this garden and table-top war game was restricted to these sceptered isles.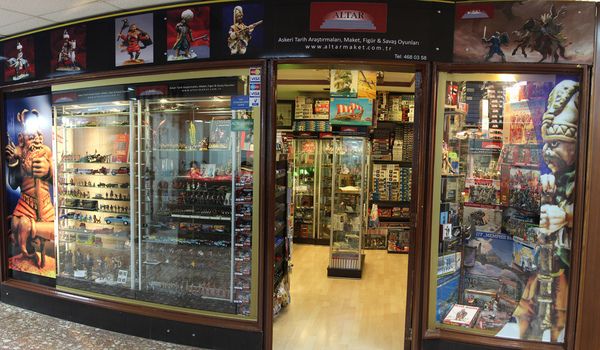 Altar's Turkish modelling store - bazaare! ;)
But today I was interested to read a small mention of Funny Little Wars on a Turkish modelling blog. MiniAFV is run by a couple of Turkish modellers who specialise in Braille Scale military kits, but while reviewing a book written about the venerable T-26 tank they mentioned in passing that the Turkish publisher - Altar - had produced:
"The first ever translation of H. G. Wells' 1913 masterpiece Little Wars received a similar enthusiastic welcome from Turkish readers."
I find this particularly interesting as my very first project in this genre is based on Turkish infantry!